Latest evidence on Coventry's population estimates
Professor Champion of Newcastle University wonders if history is repeating itself in respect of Coventry's statistics. The note below provides an update to Sir Andrew Watson's speech at the launch event of last November.
Is history repeating itself in relation to ONS overestimating the population of university cities and towns as a result of undercounting the number of graduates leaving their local authority areas?
Chart 1 (as previously submitted to the Office for Statistics Regulation by Ben Corr) shows what ONS found when it compared the 2011 Census results ('UPC included') for Coventry with its annual population estimates rolled forward from 2001 ('no UPC included'), i.e. the latter estimated too many Twenty Somethings.
While the 2021 census results are not yet available, they are likely to show a similar pattern to what ONS has now discovered from comparing their estimates rolled forward from 2011 with the latest results of their separate line of work on administrative-based population estimates (ABPEv3), with the latter indicating considerably fewer 24-32s than the MYE (Chart 2).
Chart 1: The effect of ONS's Unattributed Population Change (UPC) adjustment for Coventry in 2011
Chart 2: Coventry's population 2020: Comparison of ONS's mid-year estimate (MYE) with its administrative-based population estimates (ABPEv3)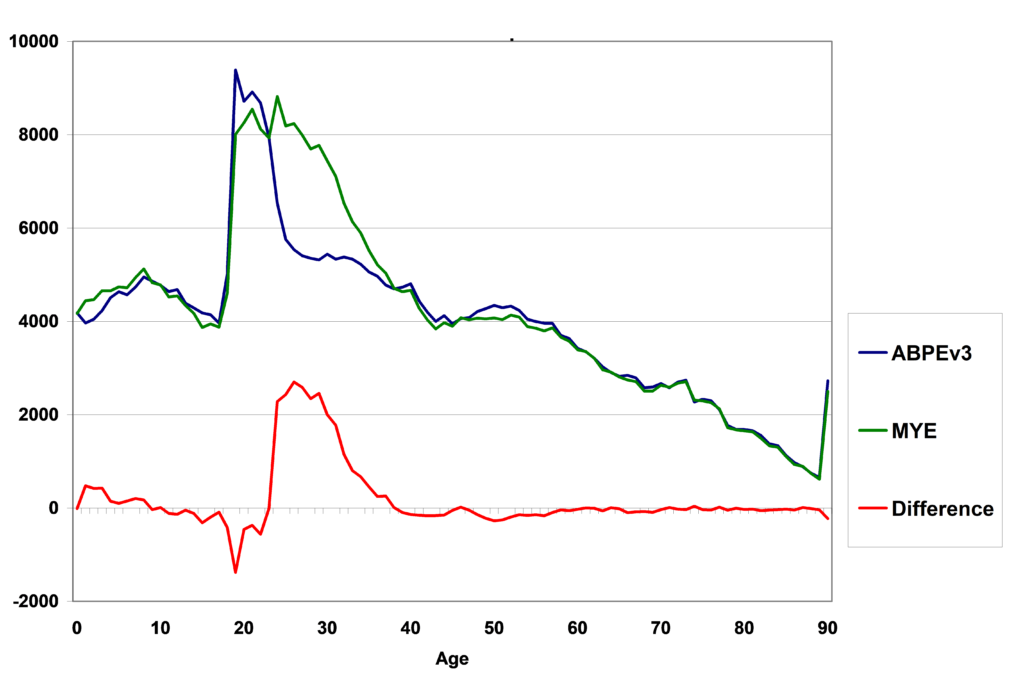 – by Tony Champion, Newcastle University, [email protected]